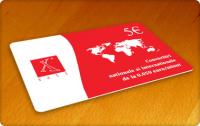 The introduction of the telephone billing options has helped individuals to pay the bills in a convenient manner. Consumers now no more need to carry consumer calling cards. Similarly, mobile phones have reduced the dependency on the consumer calling cards. However, there are some conditions in which you will require using calling cards. Here are few situations in which calling cards can prove useful:
1. Calling cards for business trips
You will certainly require making some important calls while on your business trip or professional trip to some other country. It is obvious that you cannot use your household telephone line. There is always the possibility that your cell phone cannot catch any network in that particular country or area. Using the hotel phone will add up to your travel expenses. Moreover, borrowing your friend's phone all the time is quite embarrassing. This is why you should always carry a calling card while travelling to another country or city.
You can use the calling card from any place. You need not worry about paying immediately as the bill will be included in your landline phone bill. The amount might also be deducted from your credit card account. Calling cards are small in size and can be easily carried inside your wallet.
2. Errors with the Telephone
Many times your call is cut short because of your cell phone battery that dies out soon. This prevents you from making any urgent or emergency calls with your cell phone. You can thus use the calling card and make the call. The charges will be added to your account.
3. Out of cash
As mentioned, calling cards can be used for making calls without worrying about the call charges. You can make a call from your public telephone service as well. This particular card can be used to dial anywhere.