Posted by Addison Hudson , on Dec, 2015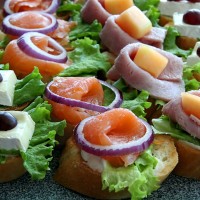 If you live almost anywhere in the United States, you are sure to run across mobile eateries or food trucks. They regularly appear on the streets of small and medium sized cities as well as larger events. As catering vehicles, they also pop up at a wide variety of special events. Among them are weddings, corporate picnics, sporting events and other special occasions. Some people are even turning to food trucks to help them raise money for their favorite charity, organization or institution. This includes school fundraisers.
Choosing a Food Truck
Before you decide to sign with a food truck for your local school fundraiser, it is important you consider exactly what is involved. There are logistic issues as well as legal ones. School fundraisers usually operate on or out of school property. This means consulting with the local school authorities as well. Put together a planning committee to help provide the answers to the following questions:
1. How many people will be using this food truck?
2. Do you plan to have more than one food truck? This will increase the need for careful planning but will also provide a greater variety of food types potentially increasing the interest in attending the school event
3. Do you have space for the vehicles?
4. Is there space for vehicles to operate safely while serving your guests?
5. Do you want to pay the food trucks or have the guests pay a certain amount? There are advantages to each approach.
6. When do you intent to hold it. Be careful selecting a date. Make sure the weather will be favorable. Food trucks do better when the weather is not too hot or cold. You do not want it to rain or snow. Any adverse weather can decrease the amount of money food trucks could bring in for school fundraisers.
7. Do you need any type of legal permits to have food trucks on school property? Check with the school and the city to ensure you can obtain all the right paperwork before you sign up a food truck or more.
8. What about insurance?
9. Will you require any form of crowd control?
Once you have the answers to these questions, you can consider your options. Be sure to look at the various menus of each potential food truck. Consider the ethnicity of the crowd. Be sure to look at whether culturally you are serving the best interests of everyone involved, including any observant Jews, Hindus or Muslims. Some food trucks, such as Moty's Grill in Florida, offer Jewish food truck catering; others focus on variations of Mexican, Italian and North American fare.
Creating Successful School Fundraisers
If your school is about to embark on a fundraising campaign, you must consider the options carefully. Among them, a perfect addition to a fair or regular event is the food truck. People always gather around food trucks. No matter what the culture, they always attract crowds. Use this to your advantage next time you are tackling the latest round of school fundraisers.